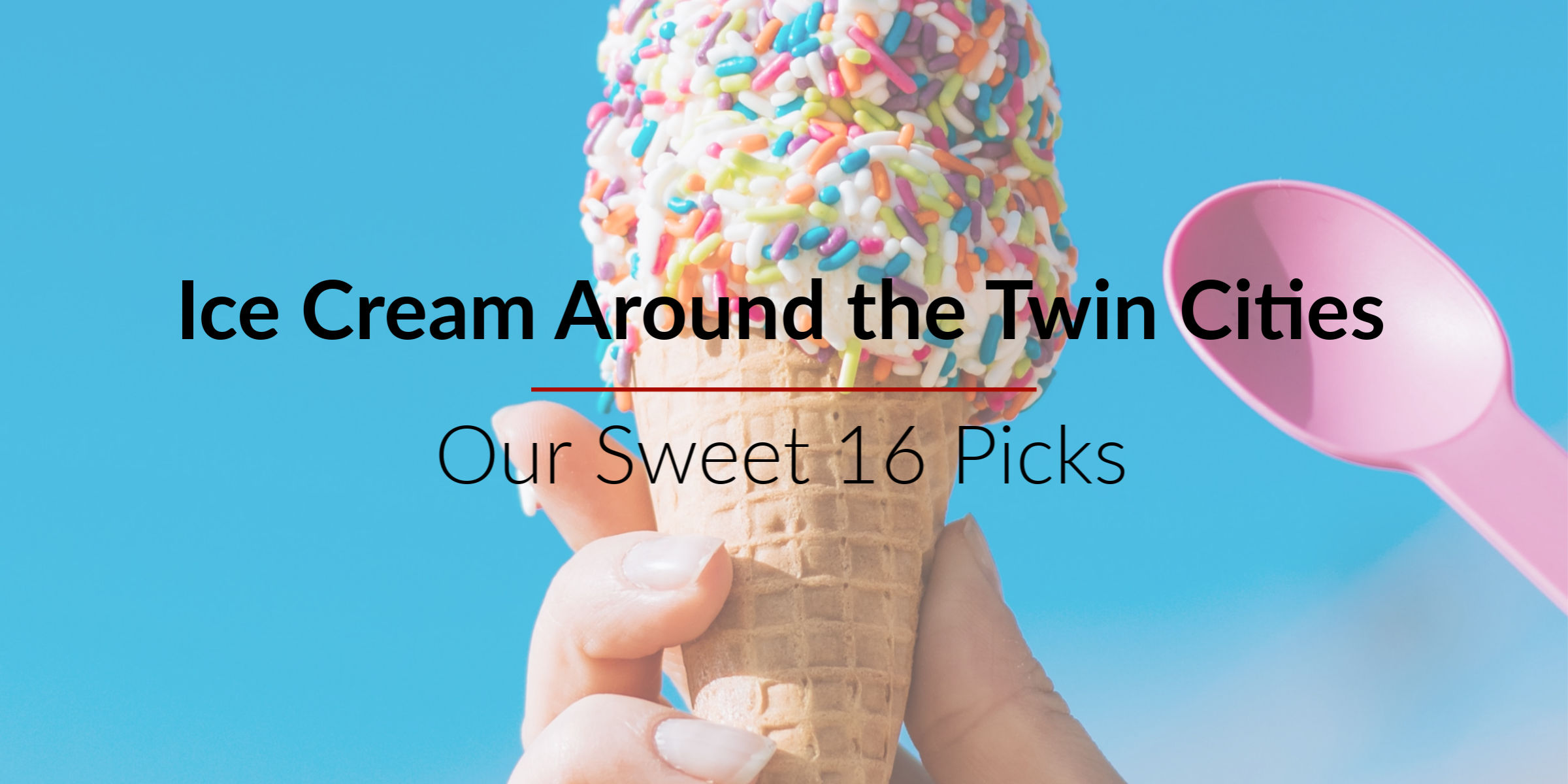 Here are the top 5 in order of popularity (per a poll of our most trusted ice cream experts):
#1 – Cullens Ice Cream
Locations in Champlin and Coon Rapids
Family-local business
48 flavors of ice cream (including dairy-free and vegan options)
HUGE selection of candy! Our sources say, "it'll take you back to your youth"!
Glass-bottle sodas in flavors of today and yesteryear
Rotating selection of flavors of gourmet made-from-scratch popcorn
#2 – Sebastian Joe's
Locations in Uptown and South Minneapolis
Independent and family-run
Also available in a variety of restaurants and cafes around town (To name just a few: Nadia Cakes, Daily Dose Cafe, JD Hoyt's, Lord Fletcher's)
Ever-changing flavor options hand-crafted daily
Hand-roasted and freshly brewed coffee
Baked-in-house pastries and treats from generations-old family recipes
#3 – Nelson's Ice Cream
Locations in Stillwater and St. Paul
Family-owned and operated. Coming up on 100 years in operation!
Generous hand-scooped cones in dozens of flavors
Reliable resources say, "Get a small and you'll still be full!"
Nelson's Ice Cream on Facebook
#4 – Minnesota Nice Cream
Locations in NE Minneapolis and Stillwater and a traveling truck
Woman-owned business inspired by sweet childhood memories of summer
Creative and nostalgic soft-serve flavors
Bonus: There's a brewery next door to quench your thirst!
Check out their Instagram page for their frozen works of edible art!
Minnesota Nice Cream on the web
Minnesota Nice Cream on Facebook
#5 – What's the Scoop?
Located in Buffalo
Family-owned and operated
Lots of flavors and allergy-friendly options, too
Cones, sundaes, shakes, floats, and hot dogs!
Honorable mentions (in no particular order):
#6 – Dairy Queen – Lots of local locations
Our experts say you can't beat a Blizzard concoction or a classic soft-serve cone
#7 – Cup 'n' Cone in White Bear Lake
We have it on good authority that they also make great sandwiches!
#8 – Milkjam Creamery in Minneapolis
#8b – Lil Jam, also in Minneapolis
#9 – Izzy's Ice Cream – Minneapolis, St. Paul, Target Field, and in stores
Go with a waffle cone of Salted Caramel with an Izzy scoop of Mexican Chocolate. Trust us.
#10 – Grand Ole Creamery in Minneapolis and St. Paul
#11 – Crepe and Spoon in NE Minneapolis
Prefer vegan treats? Then this is your place!
#12 – Honey and Mackie's in Plymouth
Get your salty-and-sweet fix 'cause they also specialize in fries!
#13 – Adele's Frozen Custard in Excelsior
#14 – La Michoacana Purepecha in Minneapolis
Traditional Mexican frozen treats and a variety of snacks. Also, tacos!
#15 – Sweet Science Ice Cream at Keg and Case Market in St. Paul
#16 – Cold Stone Creamery – Lots of local locations